A brief note on a positive experience at
Pizzeria 712
in Orem, Utah.
The chef/owners are Joseph McRae (former head pastry chef at Sundance) and Colton Soelberg (former executive chef of the Tree Room at Sundance). It's a small space, seating maybe 40, tops. The eye is drawn to the wood burning Mugnaini oven in the corner behind the bar. They make their own mozzarella, ricotta, and fresh sausages. The menu changes to follow the seasons and relies heavily on local produce.
To the extent Orem, Utah, is on any national food-lover's radar, it's because the city is home to Art Pollard's
Amano Artisan Chocolate
, one of the very best of America's bean-to-bar chocolate makers. (After winning
six
awards at this year's
Academy of Chocolate Awards
in London, Amano's reputation continues to grow internationally.) So I was pleased to see that the dessert menu included an Amano Ocumare chocolate pudding. (It's rare to see a chocolate of that quality on
any
dessert menu, let alone that of a reasonably priced pizzeria.)
Started out with a salad of romaine, marinated morels, medium rare flatiron steak in chimichurri, and shaved parmesan. Priced like an appetizer, but big enough to share or serve as a light entree. Light, fresh, and not overdressed.
In picking a pizza, I was torn between the margherita (as a benchmark) and their most elaborate pizza on the day's menu.
I ended up going with "elaborate"--roasted local sweet corn, slab bacon, house-made ricotta, and leek soubise. No regrets. Sweetness, as corn kernels popped in my mouth; saltiness from the matchsticks of very crunchy bacon; cool and light creaminess from the ricotta; and the mildly aromatic leeks tying it all together in the background. Far better than I expected or would have hoped.
The outer edges of the crust had a little lift, but were somewhat bready--none of the large bubbles and open crumb I've seen in some
other photos
of their crusts. Though I suspect it's not representative of their best performance, it was still a good crust. (It would have to be poor, indeed, to undercut the brilliance and balance of the toppings.)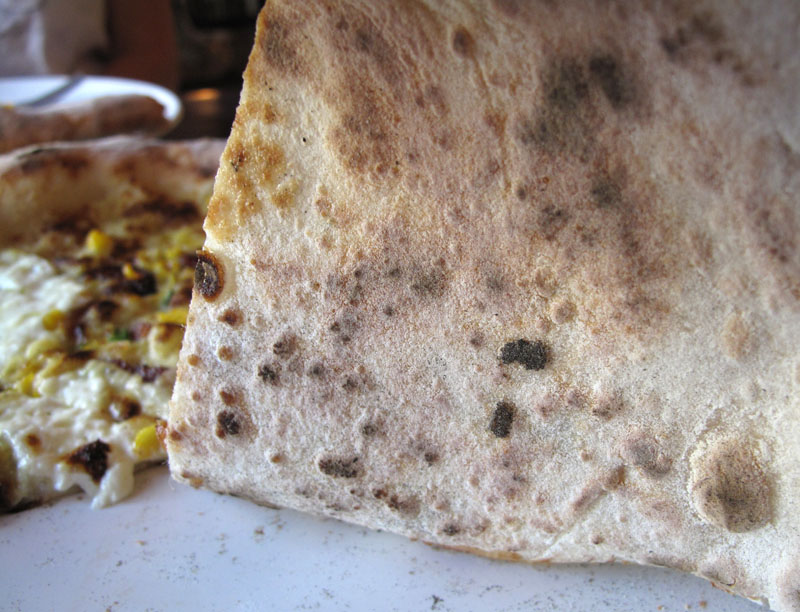 View from beneath. Light charring, crisp (but not crackery) and with a little chew.
Vanilla (local) buttermilk panna cotta with (local) poached cherries. I loved the desserts here. No flash or fidgeting. Just clean, simple, and confident.
Amano Ocumare pudding with whipped cream and biscotti. With a chocolate of this quality, putting it anywhere but front and center would be a crime. Pizzeria 712 did right by Amano. This is a dessert I'd return for many time, if I lived in the area. (I would have loved to have it with Amano's Madagascar.
But....
)
Wish we had a pizzeria in Dallas as committed to quality, locality, and seasonality.
----------------
El Azteca Taco Shop
in Provo, Utah:
Moist, shredded beef deep fried in thin, doubled-up tortillas. (Guaraná is always a plus. Only in Utah.) As a
fan of fried tacos
, I'd say these are among the top tier that I've had anywhere.
----------------
Searching a few message boards for ice cream recommendations, I heard
Spotted Dog Ice Cream
mentioned several times. Went to Emigration Market to pick up a pint (or two), since the factory store was closed that day. Doing the math on the ingredient list, the strawberry ice cream appeared to be
over 22%
milk fat.
Rarely do I complain about an ice cream being
too
rich, but this was pushing the envelope. No artificial flavors or colors and no fruit other than strawberry, so the color of the ice cream should give you a sense of the intensity of strawberry flavor. The strawberries were imperfectly pureed and not strained, leaving random chunks of varying size (which can be a little icy, but that's what happens to fruit when you freeze it). A little goes a long way, with ice cream this fatty, so I stopped at a pint.
----------------
Chocolate almond shake at
Aggie Ice Cream
, an arm of Utah State University's Animal, Dairy, and Veterinary Sciences Department. (Cache Valley is Utah's "milk bucket.") The shake was thick enough to keep the blender-chopped almonds suspended and even to stand about 3/4" above the top of the cup (until the 95 degree heat started melting it).
-----------------
Then Crown Burger in Salt Lake City, as written about in
yesterday's New York Times
.
-----------------
Scott