A belated report w/ photos of my dinner in July at Union Restaurant in downtown Seattle. I will preface it by saying I am a bit biased towards Union, I like Chef Ethan Stowell very much (as do many of us in the PNW!), and have had many good meals here. I enjoyed this one very much, too, and look forward to my next meal there.
Chilled Corn Soup with Truffle Oil - a nice way to start a summer dinner.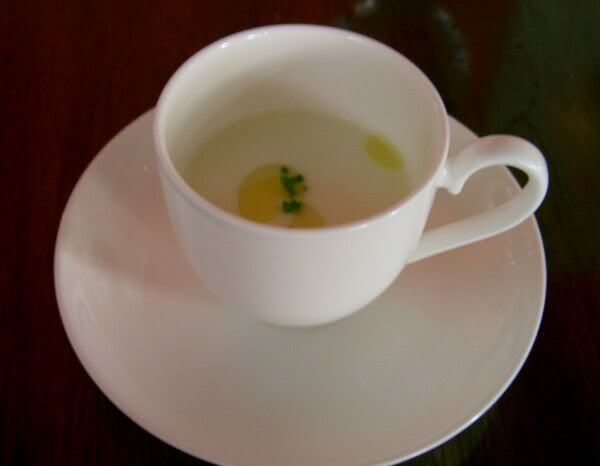 Dungeness Crab Salad with Avocado Basil & Watercress. A touch of lemon, too. Light and fresh, and I liked the avocado puree which lightly binded it together). Great flavors and feelings in my mouth while eating this dish!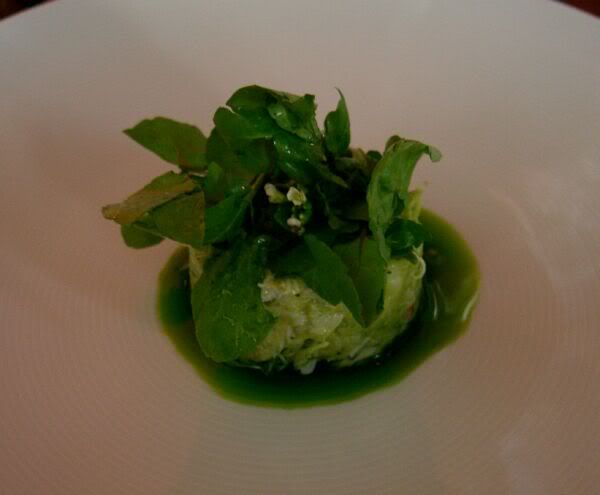 Chilled Cauliflower Soup with Mushroom (Morels) & Leek Salad and topped w/ Shaved Truffles. Another fresh & summery dish.
Part 1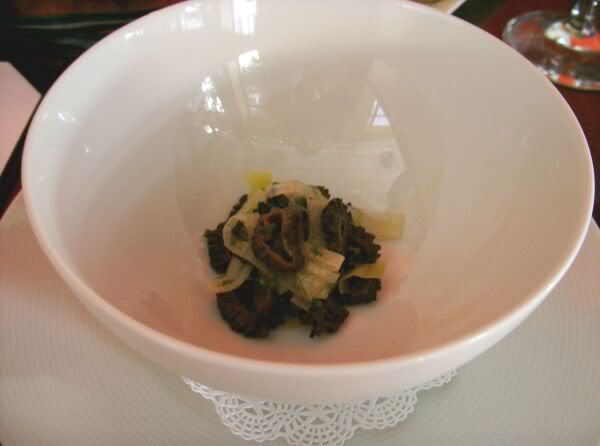 Chilled Cauliflower Soup with Mushroom (Morels) & Leek Salad and topped w/ Shaved Truffles
Part 2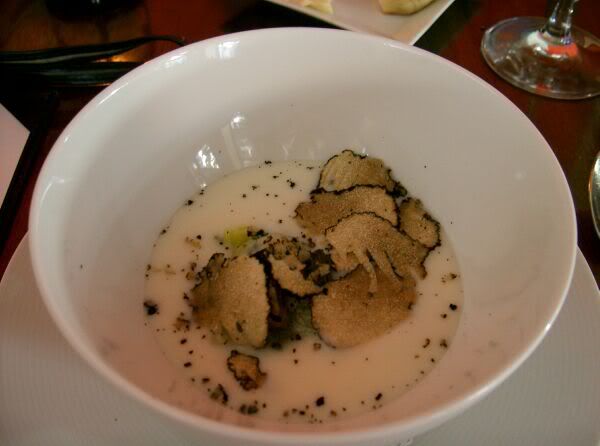 Orrechiette Pasta with Grilled Octopus, Ligurian Olives and Parsley
I learned how to make this dish the week before in Ethan's cooking class! This is kind of a filling dish. Great full flavors, but I split this with my husband as I knew I could not eat it all myself, and I don't like to fill up on pasta
.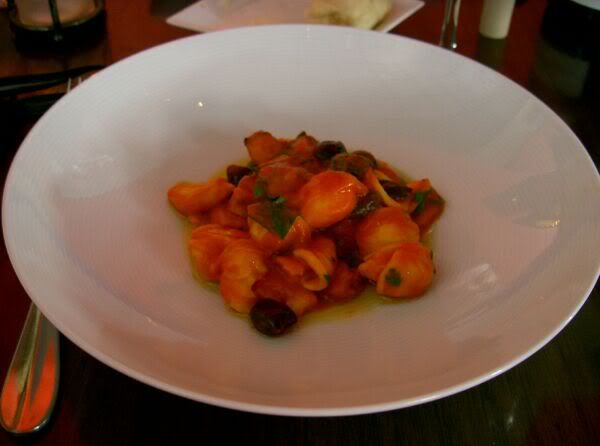 Hubby's Lamb's Tongue w/ Potato Salad. The 2 bites I had tasted fabulous!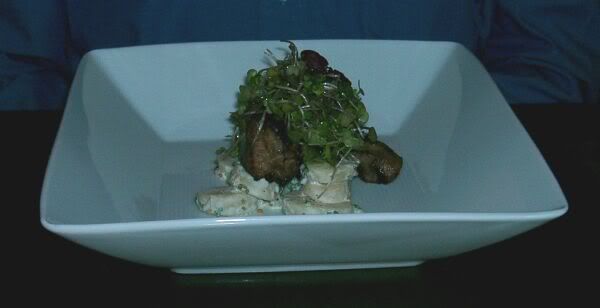 For me: Seared Ahi Tuna with (diced) Green Beans in a butter sauce and sprinkled w/ Red Pepper. Tuna was warm on the outside, rare on the inside, with good texture.
Roasted Squab with fresh Fig Confiture & Salsa. And more Morels, yum. Sorry the photo is dark.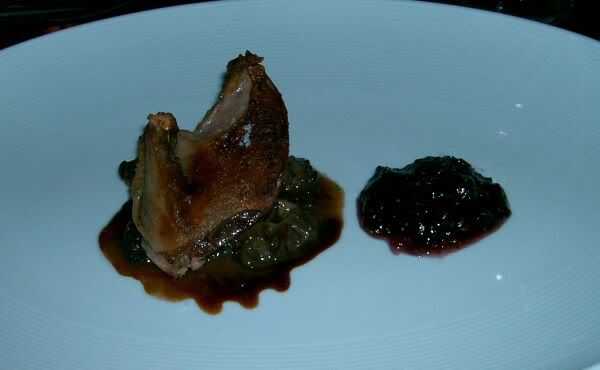 Strawberry Sorbet with Strawberry Consume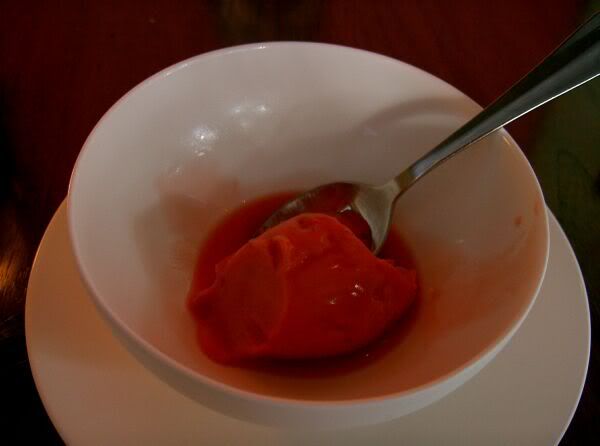 Chocolate Profiterole and Cognac Ice Cream. This ice cream was amazing, as was the chocolate.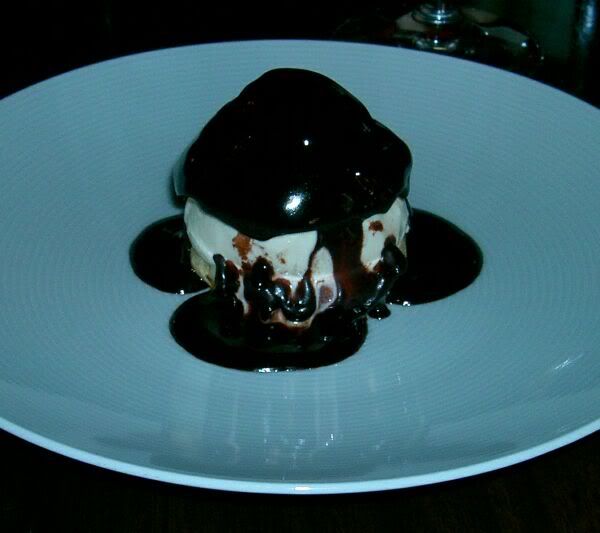 We drank a 2003 St. Innocence Pinot Noir Temperance Hill Vinyard.
Going from memory, my favorite bites or dishes that stood above the rest were the Crab Salad (always a favorite), the Lamb's Tongue, and the Cognac Ice cream w/Chocolate Profiterole.
. On a previous occasion, the Squab was my favorite. They also make an excellent crispy Sea Bass dish.
This is great restaurant, I highly recommend going if you have not been there yet.
Service was also very good. I enjoyed the tempo of our meal, which was not to have long lapses between courses.
Union Restaurant
1400 1st Ave, Seattle (corner of 1st and Union, near Pike Place Mkt).
(206) 838-8000
Some links to other discussions here on Union:
Rovers or Union/ Seattle, Fine Dining in Seattle
Sunday Dinners at Union, Oktoberfest and more...
Ethan Stowell (Union) Cooking Class
Pike Place Market, Union, etc...